BAUTISTA BAND MEMBER BIOGRAPHY


BAUTISTA PERCUSSION SECTION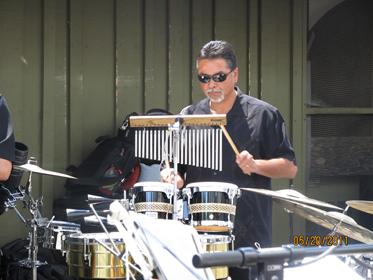 photo by Diane Galeano

MARK BRISENO



Hand Percussionist & Timbalero

Mark was born and raised in San Jose, CA and now lives in the Contra Costa County. He comes from a family of Musicians and was involved with active Musicians in the late 70's in the Bay Area. After being inactive for several years, he has started playing again and has been involved with a Blues and Classic Rock Band. Mark now looks forward to every performance with BAUTISTA bringing Elegance and adding Smooth touches with his Creative Percussive work in the mix.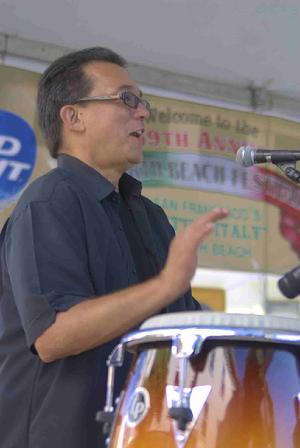 Photo by Linda Rosen
FRANK HOLDER
CONGUERO
World, and Jazz percussionist Frank Holder was born and raised in San Francisco and has been an active member of the Bay Area music scene since the early 70's . A founding member of the Kulintang Arts Ensemble, his collaborative work on the CD release "CYCLES", was critically acclaimed and was awarded the Isadora Duncan Award for 'Best Original Sound score for Choreography'. As a member of 'RhumbaFroSon', and Samba de Alegria...he provided Conga Drum training to musicians for performances in the San Francisco Carnaval Parade He also organized, trained, and performed with his own drumming students in the San Francisco Carnaval Parades. He was awarded numerous 'Artist in Residence' Program grants from the California Arts Council, to teach Afro-Cuban and Afro-Caribbean drumming, as well as the Kulintang music system which is indigenous to the Philippines. Frank is honored to be mentioned in the World Music Encyclopedia for his work and contribution to the Diaspora of Kulintang music in America. His Mentors include; Flip Nunez, Merl Saunders, and living legend Armando Peraza. Frank adds excellent syncopated feels to the BAUTISTA sound!
Having recently relocated to the Bay Area, Mike joins BAUTISTA by way of Los Angeles, Albany NY and Austin TX where he played in various rock, funk, country and jazz bands including Branchwater, The Melodic Drifters, The HitSquad, Starving Darwin, Broken Frasier, Atticus George and others. Mike's influences include drummers such at Jeff Porcaro [Toto], David Garibaldi [TOP], Dave Weckl [Session], Nate Morton [Session], etc. Mike plays Pearl drums, Bosphorus cymbals and Vic Firth sticks.

BOB WACHUNAS
BASS PLAYER
Bob grew up in Albany, NY and began playing bass high school in the late 1980s, where he sang and played bass in the church choir. He has played in a number of bands in Boston, New York City, San Francisco, and Sedona, Arizona. A singer/songwriter multi-instrumentalist who also builds and plays ukuleles, banjos, and Afro-Cuban & West African percussion instruments, his musical styles include Funk, Bebop Jazz, Afro-Beat, Fusion, Ska, and Reggae. He is the founder of Arizona Dunun Ensemble which performs traditional West African drum, song, and dance. Having recently returned to the Bay Area, he is currently focused on songwriting,
fretless bass and driving smooth bass line with BAUTISTA.
photo by Diane Galeano
PARABAR MARTIN WEBER

Rythym/Lead Keyboards - Vocals


Parabar Martin Weber began studying music at age 8 while growing up in Berkeley, California. He began with classical piano lessons, adding French
horn the following year, and as his musical interests expanded to include rock, blues and jazz, he also learned to play drums and guitar. During his
school years, Parabar performed as soloist and as a member of a variety of classical orchestras and jazz and pop groups, as well as composing music
for dramatic productions.
As he continued to explore the music world, Parabar spent several years studying North Indian classical music, learning to play sitar and bamboo
flutes. He co-founded the group Awakening, which blended Indian and Western music and received critical acclaim for its unique approach,
performing twice at New York's Carnegie Hall. Parabar has also accompanied gospel and blues singers and worked as a session musician and arranger. In 1980, a trip to the Caribbean inspired a love of reggae, which led to Parabar's touring Europe and the United States with such artists as Pablo Moses, Judy Mowatt, Joe Higgs, Freddie McGregor, Ras Michael, and the Itals. Parabar is a past recipient of the Northern California Reggae
Awards Keyboardist of the Year title, and was a founding member of the Bay Area band DV8, which released a highly-praised album and opened for such artists as the Wailers, Paul Kantner, and Ziggy Marley. He has produced an album and an EP as a solo artist, and has also worked with Carlos Santana,Narada Michael Walden, Lonnie Liston Smith, and individual members of Weather Report, Tower of Power, Azteca, Maze, the Mahavishnu Orchestra, Mandrill, Cold Blood, Sly & the Family Stone, and NBC's "Saturday Night Live" band. Other recent projects include writing music for film scores and producing demo projects for several Bay Area musicians.
Parabar is currently the keyboardist for the Tazmanian Devils, a legendary Bay Area band formed in the late 70's. More details, song samples and
videos can be found at the band's website at www.tazmaniandevils.net. Parabar is also working with the two other principals of the DV8 band along
with the Tazmanian Devils' drummer on a project called the Bass Culture revue, which blends elements of reggae, jazz, blues, funk, and West African
music and now brings his wide experience to the BAUTISTA Band.
photo by Linda Rosen
NORMAN BAUTISTA
Rythym/Lead Guitar & Lead Vocals
Bautista has been writing and singing original music since 1970, Fusing Latin feels and Funk Grooves into Rock creating percussive, rythym driven, soulful songs with melodic lyrics and screaming Guitar Solos. He created several bands, including Paradise Drive and Full Moon, but the internet broadened his circle of musicians to recruit and he was able to bring together talented players from all around the Bay Area that BAUTISTA is today. His influences are from Jimi Hendrix, early Santana, early Tower of Power, the incredible players of the 70's Jazz Fusion like Al DiMeola, Joaquin Leviano, Jean Juc Ponty that can be heard in parts of the songs he writes. Songs have Solid beginnings and endings that are bold statements with tight breaks, ultra smooth danceable Grooves and melodic Lyrics. The creativity of Norman Bautista Rythyms and Arrangements intrique bold and powerful players and attract audiences of all ages and cultures and best of all Dancers love to Groove to these songs!

JUAN ESCOVEDO

Conguero - Timbalero - Percussionist Extrodinaire

At a young age, Juan began teaching himself how to play bongos, congas, trap drums, timbales, percussion, and other instruments. When he turned 14, he began performing with his father, Pete Escovedo.

Juan has toured and recorded with many artists such as, Prince, Tony, Toni,Tone, Patti LaBelle, Lou Bega, MC Hammer, En Vogue, El DeBarge, Freddie Hubbard, Barry White, Herbie Hancock, Teri Lynn Carrington, Bobby McFerrin, Tito Puente, Cheryl Lynn, his sister Sheila E., his father Pete Escovedo, and many others.

Juan has made special appearances in JACK starring Robin Williams, CHASING PAPI starring Roselyn Sanchez and Jaci Velasquez, FORD FAIRLANE starring Andrew Dice Clay, and KRUSH GROOVE starring Run DMC, LL Cool J, and Sheila E. Juan has also made a cameo appearance in Bobby Womack's video "Save The Children."

Juan continues to tour, write and record -- both as a solo artist and with his family: his father, Pete Escovedo, his brother, Peter Michael Escovedo, and his sister, Sheila E. and when his schedule allows he adds his incredible to touch to the BAUTISTA Sound.

JEFF YOUNG
Bass
Jeff started playing bass at the age of 13. Starting with lessons from a cool guitar teacher named George Cole. From there, he played in various garage bands and then hooked up with Bay Area guitarist Danny Jones and drummer Dave Tweedie. This group won a couple ìBest of the Bayî honors from a local radio station in the San Francisco Bay Area. Looking to further his education, Jeff studied with local jazz bassist Dewayne Pate. From there Jeff attended Bass Institute & Technology (BIT). While in L.A. Jeff gig with different bands doing various types music. Upon returning to the Bay Area Jeff has studied with bassist Kai Eckhardt and has been gigging non-stop long with laying down those Backbone Latin and Funk Bass lines for BAUTISTA!
MARK FOGLIA

SET DRUMMER

Mark has been a drummer in the San Francisco Bay Area for over forty years. He has studied with many famous drummers including Peter Erskine, Billy Cobham, and Duke Ellington's drummer, Dave Black. Currently, he passes the knowledge he has gained from years of study and performance on to his students in the Danville, California area.

Mark has toured, performed, and recorded with many well known bands including Lou Rawls, The Temptations, The Drifters, The Coasters and most recently, The Mike Vax Jazz Orchestra.

Mark plays all styles of music but his favorite is jazz. He has performed and recorded with many San Francisco Bay Area artists, including singer Dolly Rappaport, bassist Ben Luis, vocalist Lily Alunan and The After Hours Band and most recently with BAUTISTA. The BAUTISTA Band's style of Samba-Rock is a perfect fit for Mark's jazz and funk background.
BAUTISTA


Original Music Band



Samba Rock - Latin Rock - Funk Rock - Jazz Fusion
Influenced by Early Santana, Tower of Power, Doobie Brothers
Al DiMeola, Jean-Luc Ponty, Stanley Clarke and more
All Songs Written and Arranged by N Bautista